From Villa del Arco, almost all roads lead to a beach and a new adventure, as you will discover as you travel along the Los Cabos coast. There are hundreds of great swimming beaches from Villa del Arco (Cabo San Lucas) east all along the Corridor and beyond San José del Cabo to the East Cape. However, in the opposite direction, swimming off all the beaches on the Pacific side of Cabo is dangerous, due to swift sea currents and powerful waves. This includes the Pacific side west of Land's End. Please use caution. (Land's End is right across from Villa del Arco.)
With filled cooler, sunglasses, sunscreen and umbrella in hand, you're ready for the beach to enjoy the endless miles of dreamy beaches.
Heading out from Villa del Arco Resort, here are brief descriptions of the 17 beaches around the Los Cabos area, from west to east:
Playa Solmar (Solmar Beach, TerraSol & Finisterra Beach)
This wide stretch of white sand beach faces the Pacific Ocean and runs from the rocks at Land's End to the base of Pedregal to the West. Along this stretch of beach you'll find Solmar Suites, TerraSol Beach Resort and Hotel Finisterra. The currents and waves are very strong and swimming is dangerous.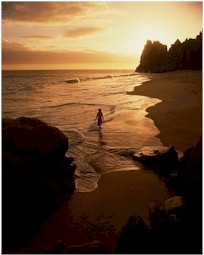 Access to this beach is through the Solmar Suites Hotel or TerraSol Resort, at the end of Avenida Solmar. Please use caution.
Playa del Amor (Lover's Beach)
Once known as Playa de Doña Chepa, Lover's Beach is another must, but to get to this hidden cove you'll need a boat. Easiest is to hire a water taxi at the marina, or you can get one at Villa del Arco. It is suggested that you pack a lunch and plan on spending the better part of the day enjoying Lover's Beach and the striking wind and water shaped rock formations. Ask your skipper to come back for you at a pre-determined time. Be most careful here, the powerful waves and currents of the Pacific make swimming quite dangerous. Swim and snorkel only on the Sea of Cortez side of Lover's Beach. You can see Villa del Arco Resort from here.
Playa El Médano (The Dune Beach)
***Villa del Arco is on this beach.***
Playa El Médano is the most popular Cabo beach and is good for swimming, sun-tanning, and lots of beach activity. It extends through the main beachfront hotel zone, and abounds with watercraft, catamarans, sea kayaks and parasailors. On El Médano, you'll find it easy to rent the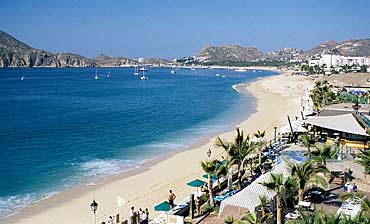 water toy of your choice, from high-powered Jet Skis or Sea Doos, to quiet self-powered sea kayaks. Ask the staff at Villa del Arco for more information.
For the serious beach runner, El Médano is the place. Stretching for two miles away from town, the sloped soft sand beach provides all the challenge the serious runner wants. Access to this beach is available at Km. 1 near Club Cascadas de Baja, or near the harbor entrance at the Plaza Las Glorias Beach Club, or through any of the hotels and restaurants along this long stretch of beach. Of course, at Villa del Arco the beach is right at your doorstep, just down a few steps to the sand.
Monuments Beach
Monuments Beach is a small beach popular with surfers and has the closest surf to Cabo San Lucas, just a few miles out of town. It can best be seen from poolside at Da Giorgio's Restaurant at Misiones del Cabo as sunset approaches. Turn off the main road at the entrance to Misiones del Cabo. Just before the main entrance you will need to park and walk down to the beach. (Misiones is just a mile or so east of Villa del Arco.)
Playa Barco Varado (Shipwreck Beach)
The rusty wreckage of a Japanese freighter remains on the rocks of this once popular beach area. Now, the wreck provides a spectacular backdrop for the "Ocean" finishing holes at the Jack Nicklaus Cabo del Sol course. The beach access is through the Cabo del Sol entrance at Km. 11.
Playa Las Viudas (Widow's Beach) Twin Dolphin Beach
Playa Las Viudas is now called Twin Dolphin Beach. It is located just southwest of the Hotel Twin Dolphin. This picturesque beach is a quiet spot to relax and have a picnic. Turn off the main highway at Km. 12 at the beach access (Acceso a la Playa) sign and proceed 0.4 miles down a very rough road to a quiet section of beach.
Playa Santa María (Santa Maria Beach)
Further along the highway at Km. 13 is another must-see beach at Bahía Santa María, next to the Twin Dolphin Hotel. Look for the beach access sign and follow the dirt road to the parking area. It is a short walk to this beautiful protected cove. As you gaze out to the azure sea you will see the peaceful horseshoe shaped beach with sand the color and consistency of pink rice. Relatively secluded, Bahía Santa María is a protected marine sanctuary, so bring along a bag of bread or tortillas and feed the multi-colored creatures of the deep. This is an excellent spot for snorkeling or just relaxing on the beach.
We highly recommend visiting this beautiful location. The resort staff at Villa del Arco can give you more information.
Playa Bahia Chileno (Chilean Beach)
Chileno Bay, next to the Hotel Cabo San Lucas, is yet another breath-taking bay known for its diving and snorkeling. Look for the dive flag at the edge of the highway at Km. 15, which marks the parking entrance. An equipment rental Palapa (a palm leaf covered hut) is located on the beach's western end near the water.
This is another beach we recommend visiting. Again, check with the resort staff at Villa del Arco for more information.
Playa El Tule
Playa El Tule, a secluded sandy stretch of beach, is a good surf spot at times. There are scattered boulders in the surf and driftwood can be found up on the beach. Access is at Km. 16.2 at the Los Tules bridge (Puente Los Tules). A four-wheel drive vehicle is needed to get across the soft sand of the arroyo.
Playa Bledito (Tequila Cove)
Playa Bledito is just west of the protected cove of Playa Cabo Real. The easiest access is also through Hotel Meliá Cabo Real at Km 19.5.
Playa Cabo Real
With the development of Cabo Real a stone jetty was built to provide an area for safe swimming and water sports. Park at the Hotel Meliá Cabo Real and enjoy the beautiful and protected cove in front of the hotel, where you can rent assorted water toys at the beachfront palapa. Exploring the expansive and deserted beaches around the hotel is a treat. Take an umbrella and cooler with water or beverages. You'll need them both. The surf and undertow may be dangerous. Stick to Playa La Concha nearby if you want to swim.
Playa La Concha (The Shell Beach)
This is a small rocky cove with a nice beach, palapa, swimming pool, tide pools, showers and restaurant and bar. Turn into the entrance to Meliá Cabo Real Hotel, then turn left and follow the paved road to the end. The beach club is to your right, down the hill.
Playa Buenos Aires (Good Air Beach)
Not a swimming beach, the lengthy Buenos Aires Beach stretches for miles, ending at the rapidly growing Cabo Real Resort. No sign marks the location, but if you would like a beach all to yourself, enjoy horseback riding in the sand or watching whales cavorting in the months of January to March, visit the deserted Buenos Aires shoreline. Exit Highway 1 at Km. 22 or 24 and follow the old Highway. Look for a dirt road in an arroyo. A four-wheel drive vehicle is necessary for access to most of this beach.
Playa Palmilla (Palmilla Beach)
Upon Punta Palmilla rests the luxurious Hotel Palmilla with its striking beaches. Inside the tranquil bay the beach along this protected cove is perfect for sunbathing and snorkeling. Snorkeling and diving equipment can be rented at the dive shop, located just before the hotel grounds. Follow the signs to Hotel Palmilla at Km. 27. The entrance to the beach is just before Pepe's Restaurant.
Playa Acapulquito
Just west of Playa Costa Azul is a little stretch of beach called Playa Acapulquito, known as Old Man's Beach. This is a popular area with surfers. Access is just off the new four-lane highway at Km. 28. Swimming is possible, but watch for surfers.
Playa Costa Azul (Blue Coast Beach)
Continuing southwest down the coast, one comes to Costa Azul and Bahía Palmilla. In this half-mile stretch before Palmilla Bay is the world famous surf break called Costa Azul. Exit the highway at Km. 28.5, right at the bridge, and proceed to the beach. There's a surf camp, rental cabañas, beach restaurant, convenience store and services.
Playa Hotelera (Hotel Beach)
Fronting the hotel zone of San José, Playa Hotelera consists of a beautiful and expansive beach starting at the fresh water estuary on the east-end near Hotel Presidente, and merging with Playa Costa Azul to the west. There are not a lot of people here, and only a few vendors. Palapas are available in front of most of the hotels. Waves can be strong and hazardous here. Swimming is not recommended.
The Concierges at Villa del Arco can give you more information about these beaches and how to get to them.

Enter Our Coupon Code and Get Access to Member Rates Today!
---
SIGN UP AND SAVE
Get access to special rates and exclusive pricing

Watch for Great Deals!

Monthly Newsletter

Insider Pricing

Save Nearly 80%!
---