Please fill out the form below to book this suite for Friday, June 9 through Friday, June 16, 2023 or call us at 1-800-650-8199.
Help Us Find a Screaming Deal For You! Please complete the request form on the left to receive unpublished rates. We'll get back to you with availability and a secure booking link!
Description
Villa 1208
Vacation in style at the Cabo Villa La Estancia Resort with picturesque views of the Sea of Cortez. The resort is located in Cabo San Lucas and is fully equipped with luxury accommodations for your entire family. Get yourself a massage in the 30,000 square foot spa, or hang out in the two infinity pools or 5 ocean view hot tubs, there is no shortage of relaxation. The kids will be thrilled with our popular kid's club that has plenty of activities and parties created especially for them. If you love to golf, you can have the resort schedule your tee time at one of the nearby world class golf courses. When you're ready to head out on the water, you can take a peek under the sea in a glass bottom boat or book a whale watching tour to see the magnificent animals during the migratory season. The Cabo Villa La Estancia golf resort is ready to host you on your next Mexico vacation.
Villa 1208
: This uniquely custom decorated and furnished condo features 2,240 square feet of luxurious comfort and livability. Pillow top beds, marble floors, 10 foot ceilings and natural traditional handmade furnishings compliment this stunning villa. Each suite within the villa has its own ROKU LCD TV/DVD (and DVD library of movies), iPod stereo dock and free secure wireless/wired internet access. There is an internet enabled BluRay DVD player in the main living area. The Master suite features a King bed with adjoining jetted Jacuzzi tub and dual sink Master bath that can be separated from the spacious master suite with sliding panel doors for privacy. The main living room features a large and cozy sectional. There is NO sleeper sofa. There is a self inflating E-Z Aero bed available (
https://youtu.be/IFxcM11yRGo
) for additional bedding requirements on request (fee).
Cordless phones that feature FREE international calling to and from the villa help keep you connected as well. Secure dedicated WiFi in the villa will keep you connected. The well appointed gourmet kitchen features all the tools, countertop appliances and conveniences you would expect in a luxury home, including a double door refrigerator with in-door purified water and ice. On the massive veranda you will enjoy an intimate 2 person dinette as well as a custom made leaded glass family size table with multiple chairs. A pair of lounge chairs provides an open air sanctuary for sun bathing, relaxing or reading. There is even a view of the bay and Lands End from the lounger area. A custom wet bar with mini refrigerator provide a spot to stash cold drinks within easy reach. The new BBQ will provide for enjoying a grilled version of your catch-of-the-day. Relax, enjoy and forget about the real world when you stay in Villa 1208 at the Cabo Villa La Estancia Resort.
Sleeps: 6
Square feet: 2,216
---
Interior Amenities
Granite tabletops
Pillow Top Beds
Floorplan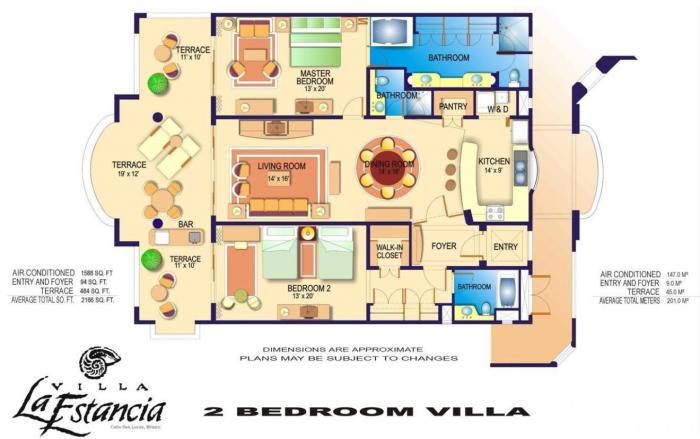 Testimonials
Everything went as planned. The room was spacious and clean. The chips, salsa and margarita upon arrival was a nice touch! Your van transportation was fantastic. We had Roberto. Great guy. We would book through you again.
Michael C. - Irving TX
My wife and I absolutely loved our 10 day stay at Villa La Estancia in Los Cabos. We stayed in Villa 1208 and the unit was amazing! With the hotel units being owned it is calmer and more elegant than most of the other resorts there. One of the highlights of our vacation was going out of the Marina on the "La Gringa Boat Tour" with our new friends. It is Cabo's newest powered catamaran tour, offering unforgettable whale watching, snorkeling and fun filled sunset tours that include the iconic Cabo Arch at Land's End on the confluence of the tranquil Sea of Cortez and mighty Pacific Ocean. The La Gringa crew was fun, informative, friendly and entertaining. They served us up a delicious lunch and snacks, chips, guacamole, and Mexican salsa with complementary open bar and soft drinks. We saw Blue whales and had a fantastic lunch then enjoyed snorkeling the calm, fish filled shallow waters off a secluded beach. The entire trip was first class and a great value, we are looking forward to going back soon. Thank you! David & Tricia
Dave and Tricia - Lake Oswego
We had a great time, the condo was amazing and spacious which was great for both children and adults. We also like the fact that is was on the lower floor, always a big plus when a 2 year old is around. We enjoyed the fact that a back door was available to walk to the pool and SPA. The service from La Estancia personnel was very good. They are very attentive and always make sure things happen in a timely manner. We had an issue with the internal internet, but the hotel sent one of their technician and he was able to reset the modem. The other issue we had was the washing machine which needs to be either fix or replaced. Fortunately the hotel includes a room full of washing machines so this was not a big deal. We would definitely like to go back to your place and recommended to future guest.
Joel - San Diego
The place was great just the internet was a bit difficult at times but worked it out. The lady that came out to trouble shoot the problem was great and at the end it all worked out. Thanks for the great place we all had a blast.
Pat G. - Dana point, CA
We had a lovely time at the property. The location was great and it was so quiet. The security of the property was wonderful as well. I would tell anyone traveling with family that Villa la Estancia is an excellent choice
Kellye J

Enter Our Coupon Code and Get Access to Member Rates Today!
---
SIGN UP AND SAVE
Get access to special rates and exclusive pricing

Insider Pricing

Member Only Deals

Monthly Newsletter

Save nearly 80%!
---