Please fill out the form below to book this suite for Friday, June 9 through Friday, June 16, 2023 or call us at 1-800-650-8199.
Help Us Find a Screaming Deal For You! Please complete the request form on the left to receive unpublished rates. We'll get back to you with availability and a secure booking link!
Description
Villa 2706
Take your much deserved vacation in a luxury Villa La Estancia condo rental. Villa La Estancia is one of the top rated family resorts in Los Cabos, and Villa 2706 is a spacious 7th floor suite with everything you will need on vacation. With luscious landscapes, vast pools, and gorgeous ocean views, you will be in awe when you step foot on the resort property. When you unpack in your villa, you will understand what it means to take a luxury vacation.
When you arrive at the resort, you will be welcomed by friendly staff and beautiful hacienda style architecture throughout the property. The resort offers spectacular views of Land's End, no matter where you are standing. With an onsite gourmet supermarket and deli and fine dining restaurant, all the food and drinks you want will be within an arm's reach. The 30,000 square foot spa is the perfect place to relax and pamper yourself with a massage. Or you can head down to the glistening multi-level pool complete with waterfalls and a swim-up bar. If relaxing by the pool or the joining the daily family activities isn't enough, you have full access to the pools and other amenities of the two other top rated family resorts in Los Cabos next door; Villa Del Palmar and Villa Del Arco. When you are ready for some Cabo San Lucas adventure, the concierge and staff can help you book scuba diving tours, a canyon canopy adventure, ATV rentals, or even an authentic America's Cup sail boat racing experience.
Villa 2706: The Villa La Estancia condo rental is a 2 bedroom suite that has amazing views of the Sea of Cortez from a private balcony. The master bedroom has a king size bed and the second bedroom has two queens beds. There is also a fold out queen size sleeper sofa in the living room. The custom designed villa has a spacious living and dining room with traditional décor. You will not feel cramped at all in the 2,216 square foot villa fully equipped with complimentary wireless Internet and a Vonage phone to keep you connected. Book your Villa La Estancia condo rental today and see for yourself why it is rated one of the best family resorts in all of Los Cabos. 
Sleeps: 8
Square feet: 2,216
Floorplan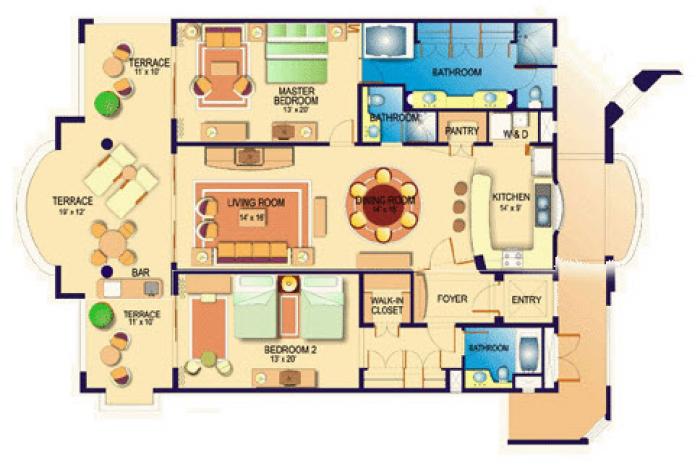 Testimonials
We recently returned from our annual trip to Cabo and this year was the best of the four years we have visited Cabo. The two bedroom suite we rented at Villa La Estancia was very spacious, open viewed, and well decorated. Villa La Estancia is probably the most quiet and laid back of the three resorts located nearby. We also liked the restaurants that was located on the property. For the first time, we purchased the 3 day mini all inclusive package and that worked out very well. One of our more exciting adventures was a deep sea fishing trip that included eight guests with plenty of room to roam around on the charter. The charter company was Sol Mar and we were the only charter that was successful catching a Tuna, a Dolphin (Dorado), and yes, a Marlin. We had the Tuna and Dorado prepared for us that evening and was most delicious. The weather was perfect and actually much cooler than Texas. We could not have asked for a better vacation.
Mark Bauer - Dallas TX
Thanks for a great time. No complaints at all. Had an awesome time and look forward to renting from you again next year.
Joe B. - Newtown, PA
Wanted to let you know we had a wonderful time at La Estancia. The staff is top notch. The facility very well taken care of, beautiful. Our room was huge! We also booked transport with Transpacifico, and would recommend that to everyone! The only way to go! Only wish I would have read my voucher again before getting off the plane. DO NOT listen to anybody coming out! Go directly to your driver is right!! Overall, we would come back and loved our stay! Thank you very much! Heidi
Heidi Houser - Preston Washington

Enter Our Coupon Code and Get Access to Member Rates Today!
---
SIGN UP AND SAVE
Get access to special rates and exclusive pricing

Insider Pricing

Member Only Deals

Monthly Newsletter

Save nearly 80%!
---