Please fill out the form below to book this suite for Friday, June 9 through Friday, June 16, 2023 or call us at 1-800-650-8199.
Help Us Find a Screaming Deal For You! Please complete the request form on the left to receive unpublished rates. We'll get back to you with availability and a secure booking link!
Description
Villa 1403
Create lasting memories during your next vacation when you stay at the Villa Estancia Beach Resort. Villa 1403 at the Cabo San Lucas condo rentals is a spacious 3 bedroom suite that offers spectacular views of the Sea of Cortez. The luxury resort offers 5 star amenities and service with on-site pools, restaurants, activities, and much more.
When you stay at the Villa Estancia Beach Resort, you have all of the amenities you could want right at your fingertips. Your days can be spent soaking up the sun in one of the two infinity pools or five ocean view hot tubs. The pools offer an immaculate view of the Sea of Cortez and overlook Medano Beach. The friendly staff organizes daily pool activities that you and your family can participate in for a little fun under the sun. If you want to wake up with a little exercise you can head over to the state-of-the-art fitness center located in the on-site 30,000 square foot spa facility. For your convenience, the resort also has an on-site gourmet supermarket and deli stocked with everything you will need on your next Mexico vacation. When you want to head out on the water, Cabo has plenty of exciting activities for everyone including world class sport fishing, spectacular scuba diving, and thrilling real life America's Cup sail boat racing. There is never a dull moment when you stay at these 5 star Cabo San Lucas condo rentals.
Villa 1403: You will feel right at home in the oversized, 2,769 square feet villa that has 3 full size bedrooms and 4 full bathrooms. The villa can comfortably sleep up to 10 guests with two king size beds, two queen size beds in the third bedroom, and a queen-size sleeper sofa in the spacious living room. The two master suites have a jetted Jacuzzi tub to help you wind down the day. After you pick up some groceries at the gourmet supermarket on-site, you can cook a meal for your family in the full kitchen with granite countertops and dining area that has place settings for 10 people. The privately owned luxury villa also has one of the best views in all of Cabo San Lucas from the private veranda. You will have a picturesque view of the resort pool, Medano Beach, and Land's End all from your fully furnished veranda where you can sip a margarita and watch the sun set. Treat yourself to a luxury vacation in Villa 1403 at the Villa Estancia Beach Resort; you won't be disappointed.
Sleeps: 10
Square feet: 2,769
Floorplan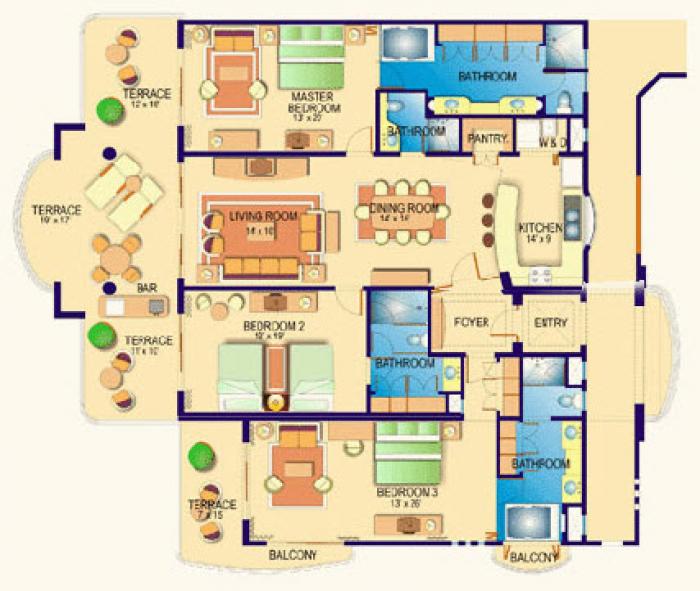 Testimonials
Hi bob. We had a wonderful time. I was a bit skeptical at first when I found you website that somehow I was going to get scammed. Obviously we did not. I would absolutely 100% recommend destination vacations based on my experience We did take the tour but were not prepared to invest. I did conclude that I would like to take advantage of their introductory package but am unable to find the person to whom I spoke. Perhaps with some more digging I can find that person. I believe the gals name was Donna to whom I last spoke and gave me the intro package offer. They only allowed me to take a picture of it. I would have some more questions before I could invest for sure or not Thanks
Thomas K
Yes, we had a great time. Villa del Arco and Cabo itself are just beautiful! No, we did not buy a timeshare or take any tours. I have to say if we did though, it would have to be like the villa we rented, we are spoiled now :) We definitely want to go back, we are thinking about booking next year too. As far as the resort, stellar. Everyone was so friendly and accommodating, the service was top notch. Never had to wait long for a drink or someone to help, it was great. The resort was clean, the room was clean, all was great. You gave us great service as well, I would definitely book through you again. You answered all of our questions in a timely matter and were very, very helpful, thank you! We felt we saved money, too. All was great! Thanks again! Angela M.
Angela - Colorado Springs
Everything went as planned. The room was spacious and clean. The chips, salsa and margarita upon arrival was a nice touch! Your van transportation was fantastic. We had Roberto. Great guy. We would book through you again.
Michael C. - Irving TX
Bob, We had a wonderful vacation in Cabo. The condo was very nice, we all loved it! Everyone at the resort was very helpful and lovely! We certainly will come back and go through Destination Cabo! We travel quit a bit and my only 3 topics of improvement which I'm not sure you can do much about: wi-fi. Typically at high end resorts, paying for wi-fi no longer exists, felt nickel and dimmed having to pay $10/day/per device. The pool attendants are very kind and helpful, would be nice to not let people come down at sunrise and lay towels on chairs only to sit empty most of the day. If the pool attendants helped guests find chairs as they arrived, I think everyone would have a chair when and where they wanted. Perhaps even adding more cabanas: we would have rented a cabana, they only had 2 seats per cabana and would only let us reserve 2 of them, with 6 of us, did not work. I would also suggest the facility buy new towels for the condo, we had plenty. however, they are looking rather worn. What we loved: The catered dinner on Christmas Day was amazing! Your tips on everything including Costco and Walgreens saved big $$ Not buying the inclusive package was fantastic advice Restaurants: our 20 something kids enjoyed Tabascos for lunch, Panchos for dinner was very good as was LaDolce. Your transportation recommendation was terrific, service awesome We all had a great time, everything you presented on your website was accurate. Thank you for your help in making our Christmas memorable and Happy New Year! Wendy
Wendy - Seattle
Hi Bob: We loved it and looking to stay again next year, during whale watching season. The villa we had was perfect for our needs and had a stunning view! We were at the "U" like you mentioned on our phone call. Staff at the villa were top notch too. Unfortunately, I was sick the entire week with the flu but what a great place to relax. The shuttle service was priceless and worth every penny. On time both ways and very accommodating. I will definitely be doing business with you again! I see why Jim H. referred you! :)
Sandra - California

Enter Our Coupon Code and Get Access to Member Rates Today!
---
SIGN UP AND SAVE
Get access to special rates and exclusive pricing

Insider Pricing

Member Only Deals

Monthly Newsletter

Save nearly 80%!
---